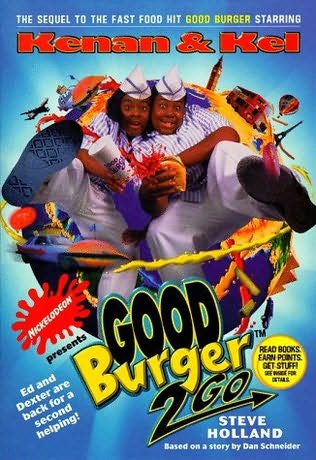 equel to a theatrical Good Burger 2 Go is the book sequel to the theatrical film, Good Burger. The book was never adapted into a film. The book was based on a story by Dan Schneider and published by Steve Holland. The book was published on October 1, 1998.
Good Burger's in trouble again! This time, it's been selling Ed's Sauce without a license. The only way to save the secret sauce is to get it approved through a taste test. The problem? The pot of Ed's Sauce is empty and only one person knows how to make more! Where's Ed when they need him?
Ed's trying to give a customer his eighteen cents of change.
In Paris.
Determined to return the money, Ed is following the man around the world... and straight into a kidnapping plot. Luckily, Ed's friend Dexter is also following him. With Ed and Dexter on the case, this adventure is sure to be... well, an adventure!
Characters Edit
Ed-Kel Mitchell
This is the first Nickelodeon book to be a s
film.
Community content is available under
CC-BY-SA
unless otherwise noted.